For those of you playing along at home, you'll probably know that I recently changed jobs in the latter part of this year. I'd been looking for a new opportunity for a few months before accepting my new position. Unfortunately, job hunting can be a daunting and dispiriting exercise as you try to effectively market yourself to a range of potential employers either as an FTE, contractor or other engagement options.
This typically leads to a lot of applications, and time spent honing a CV/resume or responding to selection criteria. In some cases, a significant amount of your precious time is spent being assessed and/or in preparing to satisfy the amount of information required by potential employers.
Today is New Year's Eve. A nice time to receive a rejection e-mail, no?
It is a day shy of being exactly THREE MONTHS since I applied for this role at a reasonably well known company (the name of which I've redacted).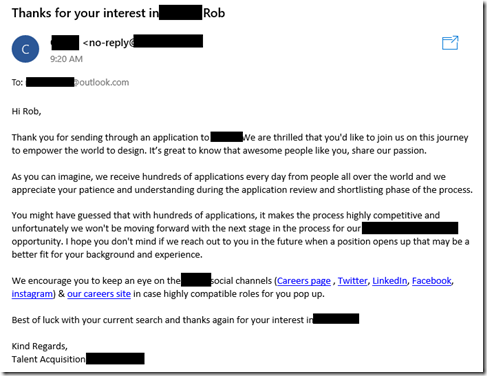 I know these places get hundreds or more applications (but thanks for spelling it out for me, name-redacted), however three months is a stupidly long wait time for a rejection e-mail. The rejection itself isn't too surprising given the passage of time (and I secured a new job around two months ago), however what annoys me more than anything else in the email is this line: "I hope you don't mind if we reach out to you in the future when a position opens up that may be a better fit for your background and experience." which originates from a "no-reply" e-mail address, and provides me no way of "opting out" of their future consideration.
To add further insult to injury, they encourage ME to track their socials. No thanks.
EDIT: 05-01-2022
The other role I applied for at the same time (less senior). Far less placation, for what it's worth.
This was a technical writing role, and I've been writing complex technical material for a decade and a half, including this blog.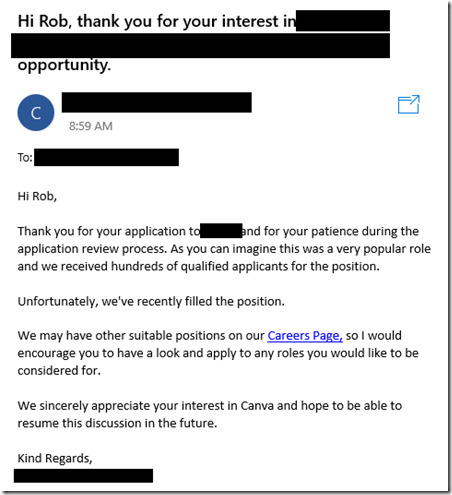 Hopefully someone from a recruitment or HR background reads this and learns what not to do.
R